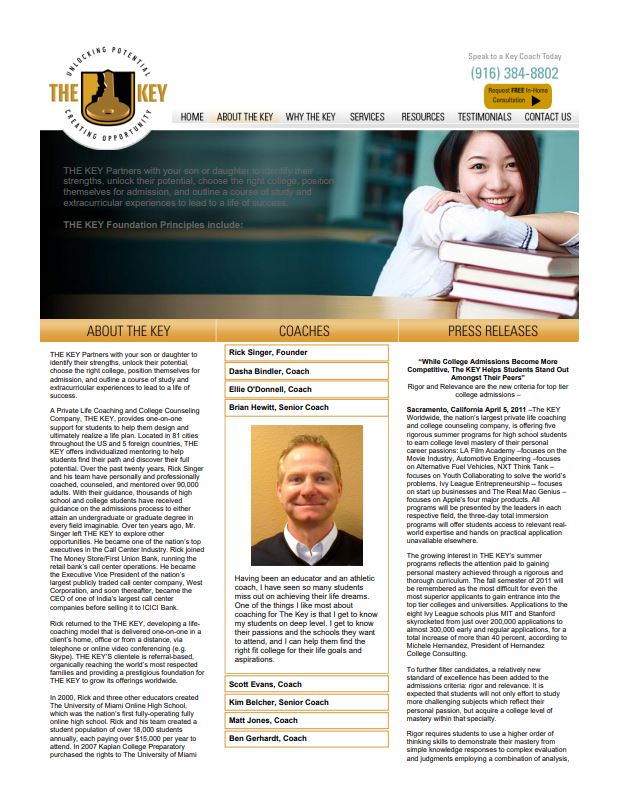 Website image obtained by GraniteBayToday.org/Gazette
Until early Wednesday, current Antelope High and former Granite Bay High counselor Brian Hewitt was listed as a "senior coach" with the college consulting firm The Key – the same firm operated by Rick Singer, who was indicted Tuesday in a $25 million bribery and racketeering scheme that has been described as perhaps the biggest college admissions scandal in U.S. history.
  The Gazette/GraniteBayToday.org obtained a screenshot of a page on TheKeyWorldWide.com website that lists Hewitt as a "senior coach" and includes a brief autobiographical statement.
  "One of the things I like most about coaching for The Key is that I get to know my students on (a) deep level," Hewitt said on the website. "I get to know their passions and the schools they want to attend, and I can help them find the right fit college for their life goals and aspirations."
  Early Wednesday, most of the content on TheKeyWorldWide.com – including Hewitt's statement – was taken down.
 However, the website's content was still visible late Wednesday afternoon when using the Microsoft Edge internet web browser – and Hewitt's photograph and autobiographical "senior coach" statement were still on the website, as was a promotional 2 1/2-minute video featuring both Singer and Hewitt talking about The Key's services and why students and parents shouldn't "leave it to chance," Singer says, when it comes to college admissions.
 By 11 p.m. Wednesday, the The Key's website was apparently completely disabled.
 Hewitt, reached by email Wednesday afternoon, said he hasn't been an employee of Singer's since 2013.
"The website is in error," Hewitt said.
   In an email, Roseville Joint Union High School District superintendent Denise Herrmann confirmed Hewitt ended his employment with The Key in 2013.
 In addition to his duties as an Antelope High counselor, Hewitt apparently operates his own private college coaching service, College Prep Coaches. His firm's website, collegeprepcoaches.com, includes testimonials from students who attended St. Francis, Rio Americano and Sacramento Country Day high schools.
 The college admissions scandal has been reported in media across the country, including The Sacramento Bee, The Washington Post, The New York Times and many others.
 Singer, who started his college admissions consulting business in the Sacramento area and served many Granite Bay High students, pleaded guilty to four charges in federal court in Boston on Tuesday.
 Among those implicated in the scheme were standardized college admissions test proctors, a fraudulent test taker, college sports coaches and parents. According to ABC news, TV actor Lori Loughlin – who according to the indictment paid Singer $500,000 to get her daughters into the University of Southern California – was taken into custody by the FBI early Wednesday. She was later released on $1 million bond. 
 The indictment covers conduct by Singer and others beginning in 2011.
 This story will be updated as more information becomes available.
Updated at 4:39 p.m., Wednesday, March 13, 2019
Updated at 4:48 p.m., Wednesday, March 13, 2019
Updated at 9:12 p.m., Wednesday, March 13, 2019
Updated at 9:58 p.m., Wednesday, March 13, 2019
Updated at 11:01 p.m., Wednesday, March 13, 2019
Updated at 10:30 a.m., Thursday, March 14, 2019